EML to Outlook Converter is supplied in a single compact installation file compatible with all major versions and editions of the Windows OS. All our files are thoroughly checked for viruses and malware prior to being published on the official website, so you can be assured that the installation of this product poses no threat to your computer, operating system and data. The software does not use any exotic frameworks or external libraries, which means that you will not need to download anything else – the program is ready for email conversion immediately after installation.
System Requirements: OS – Microsoft Windows, Microsoft Outlook 2000-2013. Note: Outlook 2000-2002 must be installed in Corporate Workgroup mode. Outlook 2010-2013 must be installed in standalone mode, click-to-run setup do not allow to import data.
The difference between the demo version of EML to Outlook Converter and a licensed one is the number of message files they can process. The demo limits the number of emails processed per folder, whereas the licensed version allows you to work with any number of files with no limitations. Program registration is carried out quickly and easily, and you don't need to reinstall the program or download any patches.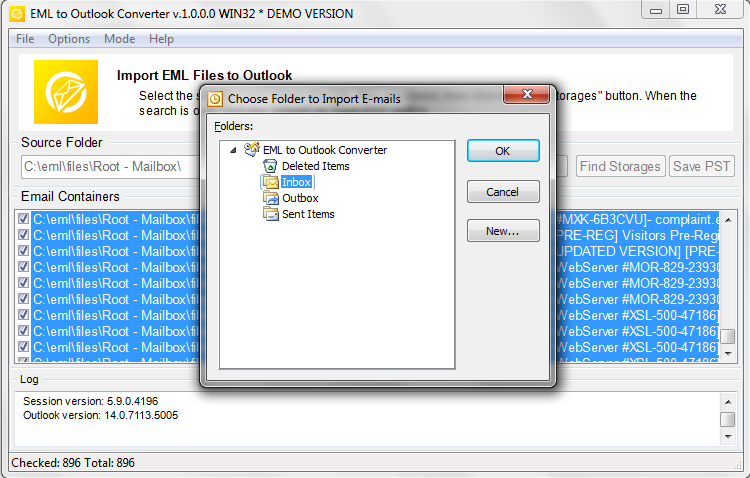 Once the file has been downloaded to your computer, start it and follow the instructions. The installation wizard will create two shortcuts on your desktop for the 32-bit and the 64-bit versions of the program. For optimal performance, use the version corresponding to the type of the operating system installed on your PC.
EML to Outlook Converter lets you move any number of EML files in any encoding to Outlook or an Outlook PST file. Fast, straightforward and smooth, this conversion process consists of just a few distinct steps:

Selection of the source folder and location of the message files
Selection of a conversion mode and additional options
Selection of a destination location for converted data
Data conversion and saving
More information about the conversion process can be found on the
usage instructions page
.
Uninstallation
One of the key advantages of EML to Outlook Converter in comparison with many other data migration tools is the ease of program uninstallation. The product is removed with the help of the standard Windows uninstallation mechanism and leaves no junk files, registered components, shortcuts or bundled extras on the user's hard drive. To uninstall the program, use a corresponding shortcut in the program's Start Menu group or use the standard "Add/Remove programs" tool found on the Windows Control Panel.
Thank you for using our products!
Our Customer Says...
Just wanted to drop a few lines of gratitude to the team behind EML to Outlook Converter. It may seem very simple – and it really is – but it does its job in style! A true savior for a dummy like me, it made my migration to Outlook a breeze. Keep up the good work, guys.

I occasionally help other users at our center with computer maintenance and software installations. When I had to move the emails of three members to Outlook a couple of weeks ago, I was about to give up when I found EML to Outlook Converted and my problems were solved in an instant. What a great product! Thank you!

You've got a fantastic little tool for guys like me. I had very little time and literally thousands and thousands of emails that were exported from a few sources, including my old archives. EML to Outlook Converter swallowed them all without a hitch and I could browse them all on Outlook just minutes later. Amazing!

A solid product that delivers to the promise. Clean and fast conversion and a no-nonsense interface – the kind of software I've always liked. Thank you for saving my time and making my migration to Outlook ridiculously easy!